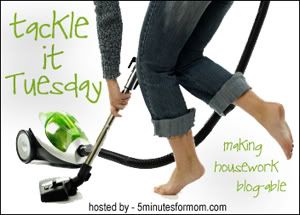 I think decorating the home is some kind of primal urge built deep into my cell structure. Not that I want to over-decorate or spend tons of money on new furniture, but I do want to make the home a nice and inviting place for my friends and family. I just don't have a lot of time, tools and resources at my disposal. Who does, right?
So lately I've been seeking inexpensive ways I can make little changes to make our house more homey. Last week's project was to tackle some inexpensive wall decor that I'd been noodling around in my head for a while.
The first thing you need are some inexpensive picture frames – I got five at the Dollar General for a dollar each – and some pretty ribbon – I got a spool of 24 yards for around $3.50 (but I only used about 7 yds.) The second thing you need is something to frame – I printed 5 letters in a pretty font that I liked.
The next thing I did, COULD have worked, but it didn't turn out as I planned. You can learn from my mistake and do it right the first time. 😉 I used the papers that came in the frames as a guide for cutting my papers. My mistake was that I didn't account for how much of the paper insert was covered by the frame. I used one at it's original size, one trimmed about 1/4 inch smaller and one trimmed about 1/2 inch smaller. As a result, you can't even see the outer white trim you SHOULD see. Next time I will remove the glass from one of the frames and mark what is visible on the paper insert and go from there.
After using the papers as my guides, I had 5 stacks of letters, 5 stacks of slightly larger black paper and 5 stacks of slightly larger white paper. You know what I did next? I taped them. Yup – I'm real fancy like that. Using "loops" of scotch tape, I centered them each and taped them together for framing.
After framing them (and getting disappointed that I didn't measure right but not wanting to RE-DO it… I measured and cut my ribbon into approximately 4 ft strips. I looped the ribbon through the hanger on the back of the picture frame and then alternated the way that I tied the bows.
When it was all said and done, I had this:
It's not perfect, but who cares? It makes me happy. It makes me smile. 🙂 And it was really cheap. Uh, I mean, frugal. =P Not only that, but I can change it out when the papers start to fade. I make it say different things or I can hang black and white baby pictures of each family member or I can make silhouettes – the possibilities are endless.
And HOW CUTE are these? I keep hoping to find something trendy and cute like this at the dollar store, but I may just need to break down and buy them from Amazon. I definitely see something like this on my walls in the near future. 😉
Now all I need to do is change out the flower arrangement for something a little less… country. 😉
Tackle it Tuesday is hosted by 5 Minutes for Mom.
{P.S. – I apologize for the picture quality! Hubs had our camera so I used our daughter's inexpensive one. The first two were overexposed and the white was TOO white – hence the sepia tones.}