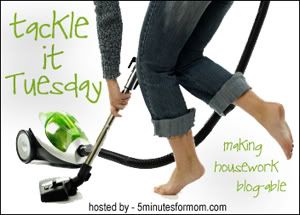 You may not believe this given the state of my sad, tired, country-fied floral arrangement I showed you last week, but I actually do have some strict floral rules I try to adhere to – really.
Rules for Floral Engagement
The flowers have to look like their real counterparts – imperfect petals, some browns in the leaves. Real flowers aren't cookie cutter and identical so artificial ones shouldn't be either.
Avoid flowers commonly found in funeral arrangements – unless you want your home to look like a funeral parlor, in which case, go for it.
Adjust the size of the floral arrangement for the space. Bigger is better – but only in bigger spaces.
Let the arrangement fit your personality!
Wash/Dust the flowers when they get dirty and replace them when they get old and lose their shape/petals/leaves/etc.
Balance them out with real plant life – don't let your home become overrun with the fake stuff!
Don't spend a lot of money on them! I shop on clearance a lot. I can't really justify spending a lot of money on something that sits on a shelf and never has a use or purpose.

At least the real plants put out real oxygen. Even then I shop inexpensively.
So it goes without saying that the tired, country-fied floral arrangement on my piano was breaking almost all of those rules and needed to be replaced. I decided last week to start keeping an eye out for yard sales to see what I could find.
I had no idea that while taking my daughter to Wal-Mart to get a birthday present, I'd find this $20 grass arrangement on clearance for FIVE DOLLARS. With that, my brass vase from before, pruning down to the magnolias only and my yellow betta fish, I've got a completely different look. A cleaner, sleeker, more visually appealing and NOT country look.
I may still paint or cover the brown grass base , or perhaps tuck it inside of another container, but I'll have to keep my open for some cheap yard sale finds for that. I'd also like to find something more creative and visually appealing for my betta fish besides that standard glass vase – ditto about the yard sale find there, too. In the meantime, this was a really quick and easy $5 fix to breathe new life into an old space.
I love tackles like this! I get to decorate. I get to do it cheaply. I get to enjoy looking at the new results. It's a win-win.
Tackle It Tuesday is hosted by 5 Minutes for Mom!